Open May 12 to Oct 15
The Royal Peacock Opal Mine has yielded such treasures as Freda's Log (pictured), "the Shoe", and the 130-pound Gingko Log, one of the largest opals ever found anywhere in the world.
About Opal Mining
It Took 14 Million Years
for Mother Nature to make a Virgin Valley black opal. It was worth the wait.
About Opal Mining
King of the Hill
The late Harry W. Wilson oversaw opal mine production site for many, many years
Royal Peacock History
All You Find Are Yours to Keep
Since 1981, the Royal Peacock Opal Mines have been open to the public for fee digging. The hills have yielded countless world-class precious opal specimens during that time. We are a family-run operation working hard to provide the best experience for families and treasure-hunters alike. We offer an 18-spot RV park with shower house and laundry, dry camping spots, and several furnished lodging. Digging options include bank digging and sifting through tailings. Due to the secluded location, we are blessed to offer wifi, drinks, ice, ice cream, and snacks through our gift shop.
The Royal Peacock is the only opal mine in the Virgin Valley offering a full-service gift shop. In addition to cool drinks, snacks, and sundries, we sell tools, firewood, and other basic supplies. The shop also offers a wide assortment of opals, jewelry, and other collectibles.
The shop also serves as the office. Please check in at the Gift Shop first if you wish to mine for opals, set up camp, or rent an RV space or cabin. The Gift Shop is open daily, in season, from 7:30AM to 4:30PM.
Moss and Fluorescent Opal
The Gift Shop sells moss and fluorescent opal specimens by the pound.
Moss opal is typically opaque, and lacking the vivid play of colors that characterizes precious opal. Its appeal comes from dark green, moss-like inclusions. It is popular among jewelry makers, who use it in pendants, earrings, and pins. Opal is the birthstone of those born in October.
As its name suggests, fluorescent opal fluoresces green when viewed under black light. The Royal Peacock is the world's only known source of fluorescent opal.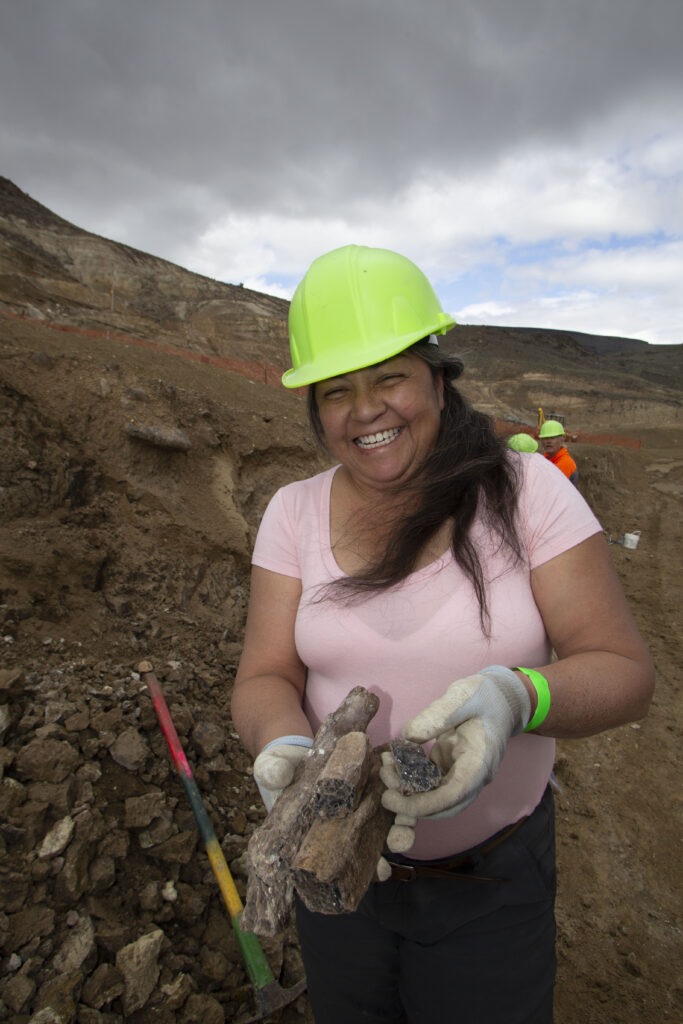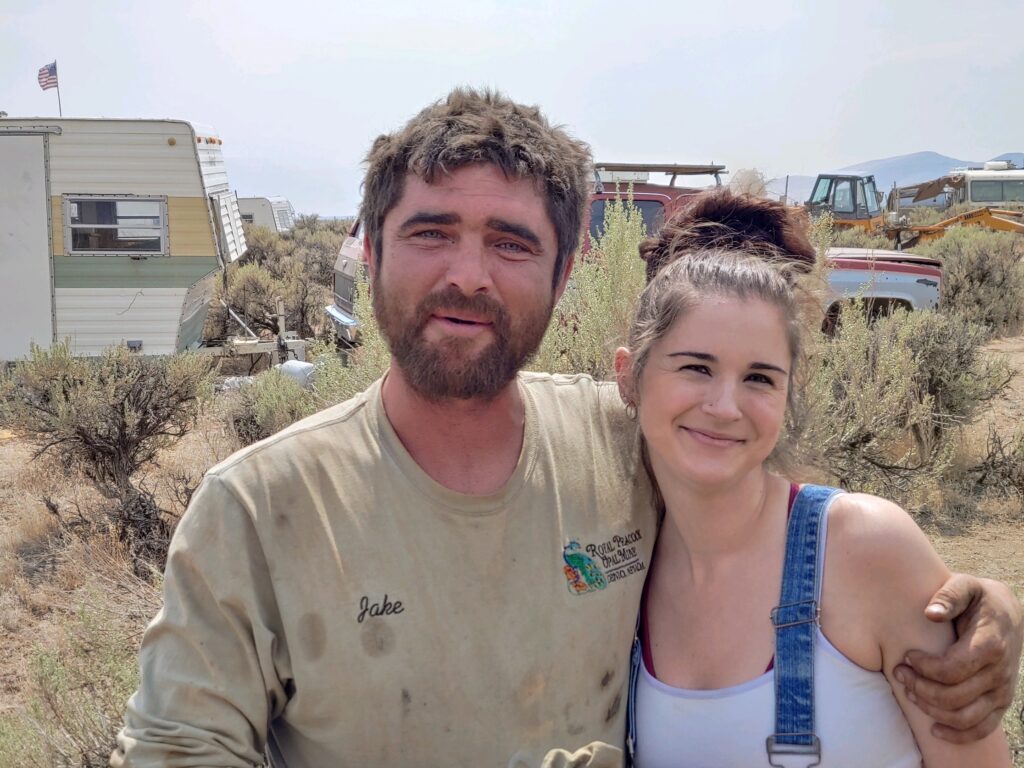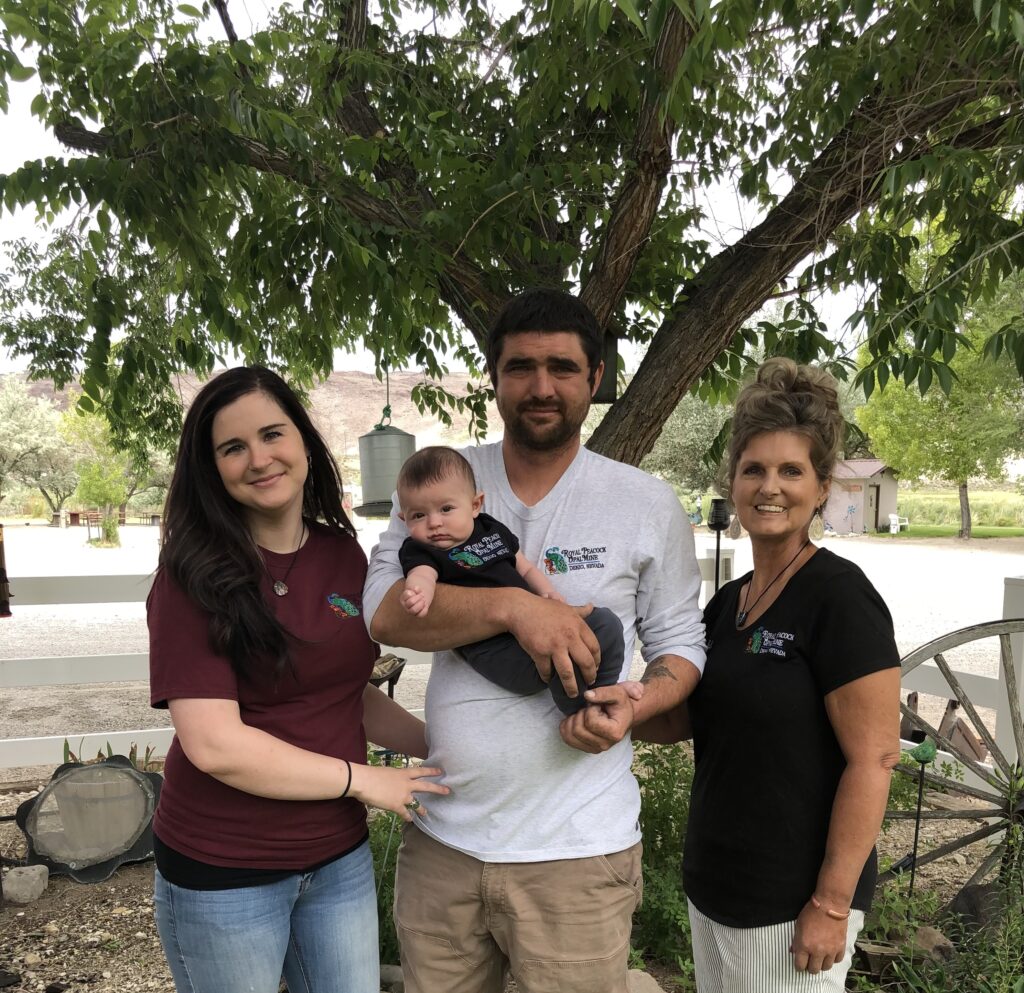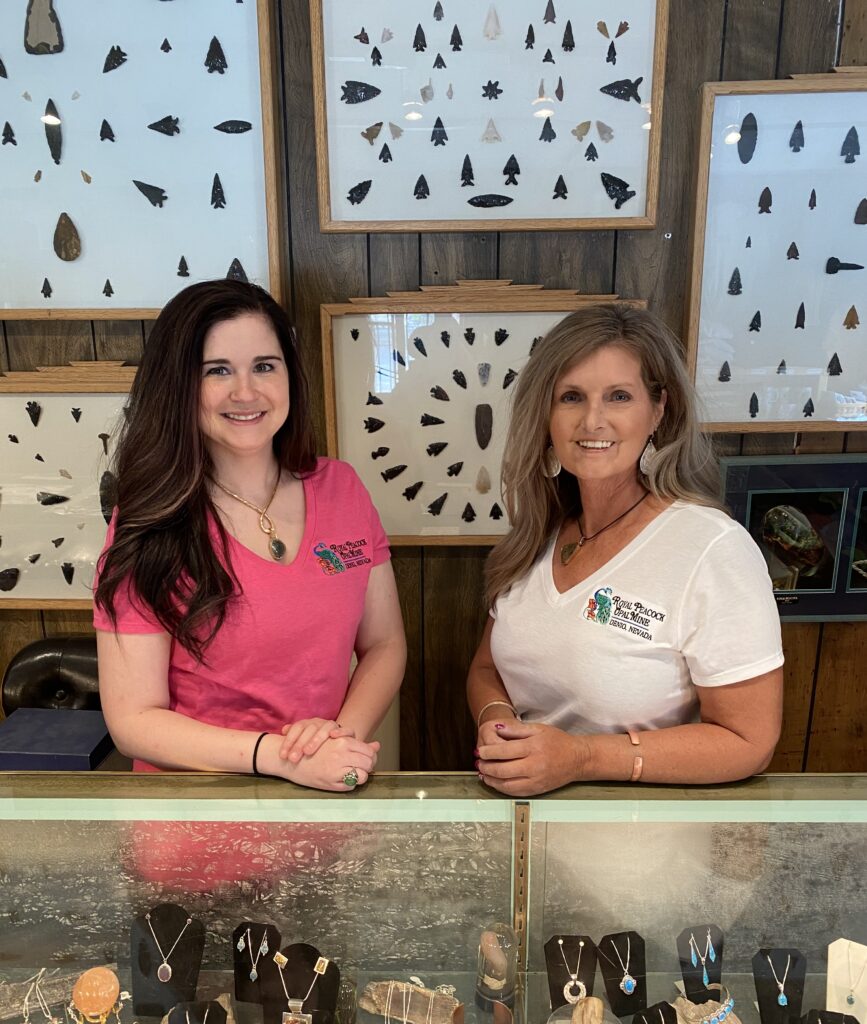 My family and I came in October for our second time to the Royal Peacock mine. Julie and staff go above and beyond to make your experience be unforgettable. From the gift shop and facilities to their knowledge and helpfulness! Every person in our group found great rocks! My husband found several limb casts and fossilized wood pieces. My 7 year old son found 1 limb cast about 4x2 and 158 grams. We have Often thought of going to other places to look for rocks but the Experience you get from The Peacock is second to none and keeps bringing us back. We love and appreciate that the Royal encourages families and kids to join in on the fun. If you go to the Royal Peacock mine you won't be disappointed!
My husband and I stayed at the Royal Peacock Mine at the end of June. We had an amazing time. Our rock hound guide was very cool. He was knowledgeable and very friendly. The people who run the store were very hospitable. Thanks you for everything, we will be coming back.
My wife saw a program on TV about someplace in the middle of nowhere called the Royal Peacock Opal Mine, her Birthstone is Opal and I have listened to her go on about this place for a few years now and how she really wanted to go there. So finally I took her to visit the Royal Peacock on June 9th & 10th 2019. We had a great time there made some new friends, dug in the tailings, found a few small Opals. The campgrounds are very nice and quite, bathrooms were very clean and looked like new. I walked in and Julie greeted me by name even though we had never met and each time we saw her she did the same, she really makes you feel welcome. Checking in and checking out was so very easy. Julie you made our 2 days there so enjoyable, thank you so much. We will be back.
I have wanted to do this since I first saw it on tv, (cash and treasures)Decided to go on a whim memorial weekend 2017. We arrived and they were so nice! They had a BBQ that weekend. They all treated us like family. We didn't have any equipment and they had stuff there. Some free some rentals. My husband found a small piece(no color) but we did learn a lot and plan on going again soon! Thank you
We three gals showed up for our second ever mining expedition and had a great time at Royal Peacock Opal Mines! Staying at the cabin was fantastic. Piu obviously loves what he does and freely shared knowledge with these newbies. Other visitors - dedicated and talented rockhounds - also offered advice (thanks Rob and Kevin!). Primarily, it was simply hard work and tons of fun! We came away from some amazing pieces - especially one in our group who unearthed a fabulous piece! Thank you, Julie for your time and suggestions. We had a wonderful time!
My wife and I spent several days mining the tailings and we found a few nice small pieces. I was fortunate that I also found a petrified pine cone and a stunning black opal about the size of a walnut. It turned out to be solid with spectacular fire. Our visit was pleasant and Julie, Jake, and Piu were awesome. Thanks guys.
Teri and I had a really great time digging in the wall. She wanted to come to The Royal Peacock for a long time. I got a break from working in Africa at a gold mine and came to look for opals. In about the first hour on the wall, Teri did some raking and found a very nice black opal. I think Pui (our professional opal guide) was more excited than Teri. We thank Julie for the great hospitality and plan to be back Oct 2015.
We had a fantastic time, a true memory maker for our family! We spent a day, two on the wall, two in the tailings. We found some wonderful pieces in both places. We spent the night in the cabin, so glad we did. Accommodations were rustic and great. Julie and Jake are so warm and friendly. Pui is such an awesome person, really glad for his assistance and conversation! Regrets? Only one, that we couldn't stay another day and night! We will be back!
Spent 3 nights comfortably tent camping at the Peacocks well run facility. Spent 1 day at the wall and 1 day in the tailings. The wall gave us nothing but a tough education in the world of opal minining, but the tailings rewarded us with a variety of precious and common opal specimens. However, Terry had her dreams rewarded by finding a black fire opal limbcast roughly 3 inchs long by 1/2 inch wide with only minutes left in the tailings. Had a great time, thanks to all the staff for their hospitality and guidance.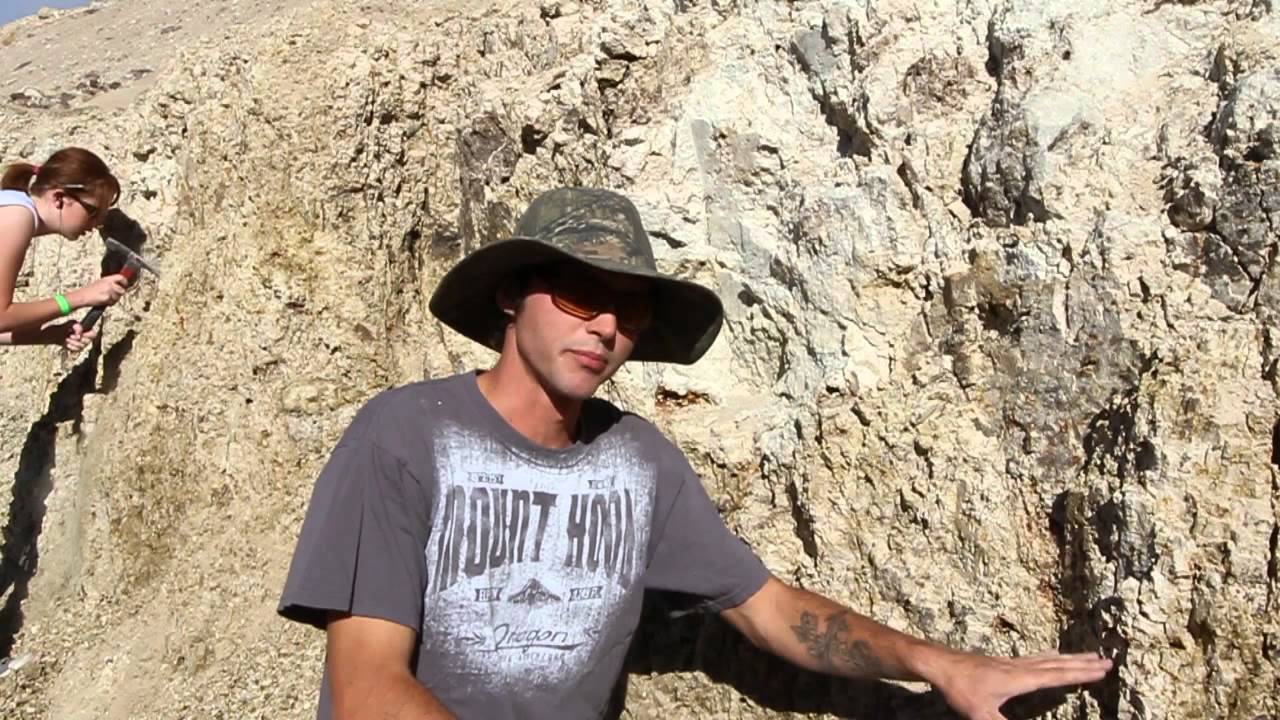 15:00