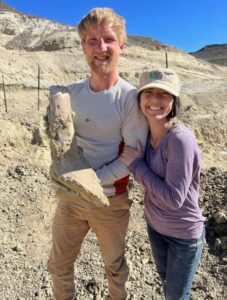 The Royal Peacock Opal Mines offers guests a chance to mine their own opals. All you find are yours to keep! 
If you're able to bring your own picks, shovels, rakes, and buckets it is HIGHLY recommended. We now only have a VERY limited number of tools to use at the mine site. Hand picks are available for purchase in the gift shop $45/small $100/large.

Digging is allowed the weekend of May 15 through Oct. 15,
WEATHER PERMITTING from 8am-4pm 7 days per week.
No reservations are needed; however,
PLEASE SIGN IN at the Gift Shop
before starting to mine!
If you have never mined for opals before, or even if you have, we will be happy to show you the basics and get you started. Staff are on-site throughout the day to answer questions and offer advice as needed.
When signing in at the Gift Shop office, you will choose from several different types of mining, as follows.
Bank Digging
Bank Digging costs $190/day/person. And, it is hard work! However, it may offer the best chance to find a noteworthy opal. In bank mining, you work ground that has never been moved or sifted before.
We prepare the mining banks in the off-season. Using heavy equipment, we remove hundreds of feet of clay "over-burden." That exposes sloping, near vertical "banks" or terraces of opal-bearing substrate.
The work of bank mining involves knocking fresh material from the bank, typically with a pick or rock hammer. We recommend removing no more than a hand's thickness at a time. It is important to work evenly, and not to "under-cut" the bank. Undercutting can create dangerous rock-fall conditions for yourself and others.
Often, the sound of your pick hitting glass may be the first sign that you have found something. The next step is to use small hand-tools to dig the specimen out. Typical tools include ice-picks, sharpened screwdrivers, and rock chisels.
Depending on the type of opal you find, you may wish to place it in a bucket of water once you have fully extracted it. For some types of opal, this will prevent cracking and crazing that could result from rapid drying. With other types of opal, such as 35% or more fossilized wood, soaking could cause any remaining wood to expand and crack the opal. If in doubt, consult on-site Royal Peacock Opal Mines staff.
Children under 12 are not allowed to dig in the bank.
Click the photos below for a pop-up slideshow of bank mining at the Royal Peacock Opal Mines
Raking the Tailings
Another, less expensive (and less strenuous!) option is to mine the tailings. It costs $75/person/day. Kids are free with paid adults.
The "tailings" comprise mounds of looser material that can be sifted through using garden rakes (although picks can be useful, too, for breaking up clods).
Sometimes the opals found in the tailings were previously missed by bank diggers. Other times, they were dumped there by the backhoe during initial bank preparation, or  routine daily site work. Each morning, the backhoe clears debris left by miners the previous day, while also removing material to keep the bank stable and safe.
The work of mining the tailings consists of raking through material. While raking, keep an eye out for unusual colors and shapes, and listen for unusual sounds!
Children are valuable helpers, because they are low to the ground, and often have excellent eyesight. Children 12 and under mine free with paid adult (mine dumps and tailings, only)
Tools You May Need
Tools a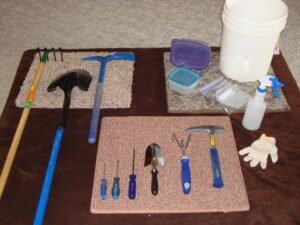 re available for purchase in the Opal Shop. However, most people prefer to bring their own. Here is a list of what you might need:
Long handled, sharp pointed pick (Estwing Hoe Pick), rock pick, shovel, or garden rake
Screwdriver #2 , 8 inch long blade ground to point, Ice pick (or similar tools)
Small bucket-like container, plastic container and ziplock bags.
Gloves!! Water squirt bottle, kneeling pad or carpet sample is good, hat and sunscreen.
MSHA Requirements
hard hats (try to bring your own but we do have a limited amount on hand for use)
hard toed shoes (boots are great to protect your toes from rocks but closed toed shoes will work just fine) no open-toed shoes allowed on the mine site, no one wants to lose a toe
safety glasses or goggles (if you don't have any we do offer some for purchase in the rock shop) these are only required for bank diggers
No mechanical tools are allowed